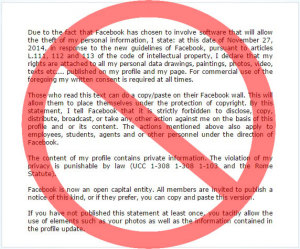 There is a rumor circulating that Facebook is making a change related to ownership of users' information or the content they post to the site. This is false. Anyone who uses Facebook owns and controls the content and information they post, as stated in our terms. They control how that content and information is shared. That is our policy, and it always has been. Click here to learn more – http://www.facebook.com/policies.
Messages about protecting your copyright or privacy rights on Facebook by posting a particular legal notice to your Facebook wall are similar to an item which circulated several years ago positing that posting a similar notice on a web site would protect that site's operators from prosecution for piracy. In both cases the claims were erroneous, an expression of the mistaken belief the use of some simple legal talisman — knowing enough to ask the right question or post a pertinent disclaimer — will immunize one from some undesirable legal consequence. The law just doesn't work that way.
Facebook users cannot retroactively negate any of the privacy or copyright terms they agreed to when they signed up for their accounts, nor can they unilaterally alter or contradict any new privacy or copyright terms instituted by Facebook, simply by posting a contrary legal notice on their Facebook walls. Moreover, that Facebook is now a publicly traded company (i.e., a company that has issued stocks which are traded on the open market) or an "open capital entity" has nothing to do with copyright protection or privacy rights.
Any copyright or privacy agreements users of Facebook have entered into with that company prior to its becoming a publicly traded company or changing its policies remain in effect: they are neither diminished nor enhanced by Facebook's public status.
Further, the concerns about copyright ownership which these types of notices are intended to address are unfounded. In response to rumors about copyright issues that began circulating in November 2012