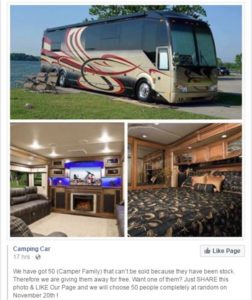 Outline:
Various Facebook Pages claim that you can win a luxury RV or motor home just by liking, sharing, and commenting.
Brief Analysis:
The Facebook Pages are fraudulent. They are not giving away RVs as claimed. There are no prizes and no winners. The bogus Pages are scams designed to rapidly accumulate large numbers of Page likes. Once the Pages have gained high like numbers, they can be reused for other types of scam or sold on the black market to other scammers.
Example: We have got 50 (Camper Family) that can't be sold because they have been stock. Therefore we are giving them away for free. Want one of them? Just SHARE this photo & LIKE Our Page and we will choose 50 people completely at random on Any Date
Comment `Done`
Detailed Analysis:
There are currently multiple Facebook Pages claiming that you can win a luxury RV just by liking, sharing, and commenting. Some versions use the term 'motor home' rather than RV or use both terms in the text of their posts. Many of the Pages use the image shown in the above example.
Typically, the Pages ask you to share, like, and comment on a promotional post, and also like the Page itself.
However, all of these Facebook Pages are fraudulent. They are not giving away RVs (or motor homes) as claimed. The promised prizes do not exist and no amount of liking, sharing, and commenting will give you even the slightest chance of winning one.
The image of the luxury RV is stolen from a travel website that hires such vehicles to holidaymakers.
These Facebook Pages are typical like-farming scams. Their purpose is to gather very large numbers of likes very quickly. By specifying that users must like, share, and comment, the scammers responsible for the Pages ensure that their fraudulent material is seen by an ever growing audience. They effectively turn the hapless users who are taken in by these giveaway scams into their own personal posse of spammers.
After the like count on the scam Pages has significantly increased, the scammers can then use the Pages to launch follow on scams such as survey scams, this time to a considerably larger pool of potential victims. Alternatively, they may sell the – now like-heavy – Pages to other scammers who will, in turn, repurpose them for their own spam or scam campaigns.
Scam Facebook Pages likes these are very common on Facebook. But, alas, despite a good deal of publicity about such scam attempts, they continue to find new victims. Don't be tempted to participate in these bogus giveaways 'just in case' they are legitimate. By doing so, you are not only aiding and abetting scammers, but also exposing your Facebook friends to their fraudulent material.