[ad name="G-Leader"]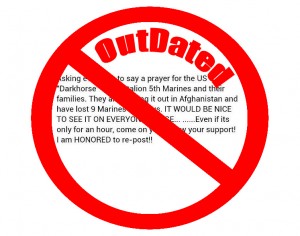 OutDated: Even more than indicated in the Facebook-circulated prayer request an example of which is shown here the U.S. 3rd Battalion, 5th Marines Darkhorse suffered heavy personnel losses in Afghanistan between October 2010 and its return to Camp Pendleton in April 2011.
Our brave men and women fighting for our freedom both abroad and here at home always deserve our prayers and respect but lets stop sharing these out dated like it happen today broadcasts and perhaps just post in your own words your gratitude to those who serve and especially to those who gave the ultimate sacrifice for us.
[ad name="G-Rectangle-right"]Dark Horse Battalion was rotated back to the U.S. in April 2011. Its place in Afghanistan was taken by the 1st Battalion, 5th Regiment, also from Camp Pendleton.
[ad name="G-HorLinks"]