THIS IS A FAKE NOT TRUE
In August 2014, Facebook users begin seeing posts that featured what was touted as a link to a farewell video recorded by comedian Robin Williams just prior to his death by suicide in August 2014: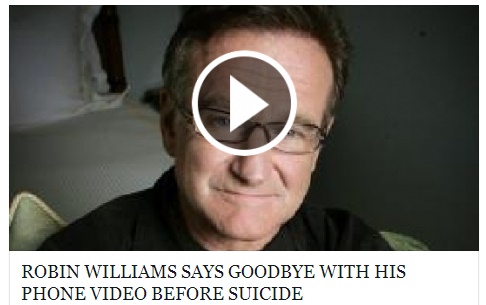 EXCLUSIVE VIDEO: ROBIN WILLIAMS SAYS GOODBYE WITH HIS CELL PHONE BEFORE HANGING HIMSELF WITH A BELT AND CUTTING HIMSELF WITH A POCKET KNIFE. HE CAN STILL MAKE EVERYONE LAUGH WITH THIS VIDEO BUT IT WILL MAKE EVERYONE CRY A RIVER AT THE END.
However, there was no such video to be seen; the posts about the Robin Williams 'goodbye' video were just lures by scammers intended to snare victims. Users who clicked through on such links were taken to a faux Facebook page which eventually led them down the trail of the usual survey scam, directing them to "like" or "share" links with their Facebook friends and complete online surveys, all with the goal of getting them to enrich scammers by disclosing sensitive personal information, spreading malware, buying products, and signing up for costly, difficult-to-cancel services.