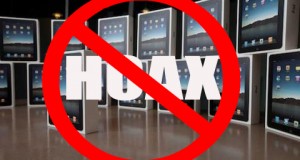 The claims in these spam messages are false. You will not receive a free Apple product by following links in the messages. Links in the spam messages lead to various third-party websites of  a dubious nature. If you receive such a message, do not follow any links that it contains. Similar attacks have attempted to trick Facebook users into visiting third party websites that harbour malicious scripts or software. Others have attempted to trick users into divulging sensitive personal information or signing up for expensive SMS phone services.
Reports indicate that the bogus messages are being posted automatically via a rogue Facebook application or malicious script. At the time of writing, many of the links in the messages have apparently been deactivated and receive a Facebook "Page not found" error message when clicked.
Facebook has increasingly become a favoured vector for attack for spammers, scammers and malware distributors. Facebook users should be very cautious of any messages that offer free products or services and urge them to follow links or install Facebook apps in order to receive such products or services.
Example Post
Time for another AWESOME giveaway, we are giving away 500 iPads. Do you feel lucky? now is your chance to win, follow the steps below to enter.
Step 1. Like th…is photo.
Step 2. Share this photo.
Step 3. Comment your color Black/White
Winners will be announced in 24 hours, only the people who follow ALL the steps will be entered to have a chance to win. Best of luck to all contestants!